Before you apply
Having everything you need before you apply for your personal loan will make the process fast and smooth. Check out our helpful hints below to ensure the process is worry-free.
The basics

A Canadian resident
A personal email address

A mobile phone number

20+ years of age
Your finances

Currently employed

$2,000+ per month income

Fair to Good credit

No social assistance
Your online banking details

Bank account #

Branch #

Institution #
Complete transparency
When you apply to Ferratum for a short term loan, you can be sure you're in good hands. We believe in complete transparency. There's no hidden costs and all fees are clear to see.
 
Happy customers
We understand relationships are important and since we're a direct lender, many of our customers use our services on a regular basis.
Once you apply for one of our online short term loans, we create an account for you to use again if and when the need arises. Our aim is to create happy customers.
 
Why choose Ferratum?
At Ferratum, our mission is simple – to provide the best, fastest, and most user-friendly lending and banking services available with unsurpassed personal customer service.
As a member of the Ferratum Family, you'll get exclusive access to our financial tips and tricks, hacks, and useful money saving information every week right on Ferratum.ca.
Take our latest financial hack for example: We discuss ways you can identify invisible expenses in your life, and how to keep these (and your wallet) in check. If you don't have time to read the article we'll give you a hint: Call on the use of online loans (when you need it), buy a low fuel consumption car, and reduce your monthly expenses in the long term to come out ahead!
Interested in building the best emergency fund possible? We've got an article for that too. These are all included with your short term loan.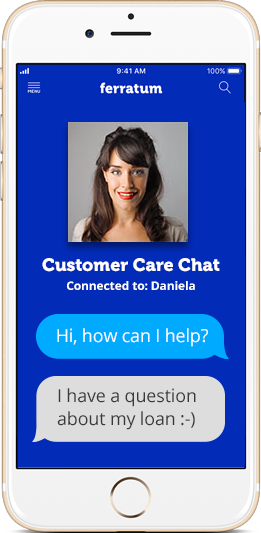 Still have questions?
Talk now to one of our professional Customer Care agents. They are on stand by waiting to assist you with any questions you may have.
Be sure to read our Frequently Asked Questions for a wealth of information related to all things Ferratum Canada.