Online Cash Loans from Ferratum Canada
Online cash loans from Ferratum
Why choose us for cash loans?
At Ferratum, our mission is simple – to provide the best, fastest, and most user-friendly lending and banking services available with unsurpassed personal customer service.
Because we're different
When you apply for one of Ferratum's online cash loans, you can be confident you're in good hands. We believe in complete transparency. No hidden fees.
A friendly tip: when you're exploring options for online cash loans, it's never a good idea to search for "cash loans with no credit check" as many times companies who say they won't perform a credit check often collect and pass your confidential details to third party lenders lenders who will.
When you apply for one of Ferratum's cash loans, you can be sure we won't ever share your details without your permission.
 
We're customer focused
We understand relationships are important. Since we're a direct lender, many of our customers use our services many times.
Once you apply for one of our online cash loans, we create an account for you to use again if, and when the need arises. Our aim is to create happy customers.
 
Come and join the Ferratum family
As an international pioneer in the field of financial technology and mobile lending, we believe in doing things differently.
Simply fill in our online application through our easy-to-use website. Applications are completely free, and after completing one you'll receive a decision within minutes. Once you're approved, you'll get the money you need deposited directly into your bank account.
Since Ferratum is a 100% online bank, this means no waiting in line, no paperwork, and no hassles.
What our short term loans are all about
Cash loans are often also referred to as online loans, short term loans, or same day loans.
Emergency financial situations can strike at any time. We've all worked at a part time job, where your hours might be a lot or a little. Keeping your bills paid can be tough when you can't count on a steady paycheque.
Ferratum's cash loans are made for these situations! We all experience a cash short fall at some point and at Ferratum we understand that a small cash loan can make a big difference for you and your family.
Or your car breaks down – you have budgeted for all your regular bills perfectly and the last thing you need is an unexpected expense! All your cash is tied up until payday, but how are you going to get to and from work without a car?
When something unexpected happens and you need a fast and effortless cash loans, you can always turn to Ferratum. Our loans are perfect for that.
 
We strive to say yes when other banks say no
When it comes to credit checks, a lot of people tend to think their credit file is worse than it is, and are pleasantly surprised when we offer them a quick cash advance loan.
We're not looking for old mistakes on long term finance arrangements customers had years ago. We run our checks based on similar items of credit to our online loans. It takes just 10 minutes to apply for one of our loans and get a decision almost immediately.
Using our sophisticated and advanced technology, it takes just seconds to assess an application for one of our online cash loans.
Customers will pass through several virtual "checkpoints" which validates their information as they go through the process. During this process, we will verify their ID, check their credit rating, and their ability to repay the loan on the due date.
 
Why one of our cash loans?
There are endless reasons why customers apply for online loans. At Ferratum, our customer service team have helped thousands of people just like you to assist with our cash loans.
From car repairs, to veterinary bills, urgent home repairs and everything in between, we're here to help.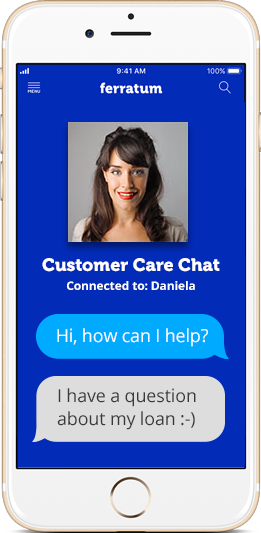 Still have questions?
Talk now to one of our professional Customer Care agents. They are on stand by waiting to assist you with any questions you may have.
Be sure to read our Frequently Asked Questions for a wealth of information related to all things Ferratum Canada.