The most common reasons applicants are declined:
You do not meet our minimum income requirement
We ask that all applicants have $2,000 CAD or greater monthly recurring income. We verify this during our Bank verification process.
You are not actively employed
We require all applicants to be actively employed with verifiable employment income. We do not consider primary income from disability insurance to be employment income.
Your bank account is too new
We require at least 60 days of transactions in your bank account. We verify this during our Bank verification process.
You do not meet our age requirement
We lend to individuals between the age of 20 to 65. If you are applying for a Personal Loan term that extends beyond your 65th birthday, we recommend you reduce the borrowing term to be within your 65th birthday or you may be declined.
You already have a loan with us
At this time, we only allow one active loan per individual.
You are applying from outside of our operating Provinces
Currently we only lend to those who reside in Alberta, British Columbia, Newfoundland, New Brunswick, Nova Scotia, and Ontario. If you are applying over a VPN (Virtual Private Network) please disable this, and apply with us again.
You do not meet our minimum credit requirement
We run a credit check during the application, if your reported credit rating is below our minimum cut-off at the time of your application, we will not be able to offer you a loan.
You did not pass our Electronic ID verification
We securely verify your ID during the application process. Ferratum uses data from multiple sources including a credit bureau report and your bank account to help verify your identity.
You did not complete the Bank verification process
We verify your banking details during the application using a secure integration that connects to your bank account. You must complete this step to proceed with your application.
If I request less, will I be approved?
Our fully automated system will provide you a lending decision based on your unique financial history during the application. If you qualify for a lower amount one will be offered to you. If you are declined and re-apply for a lower amount will unfortunately not change your outcome.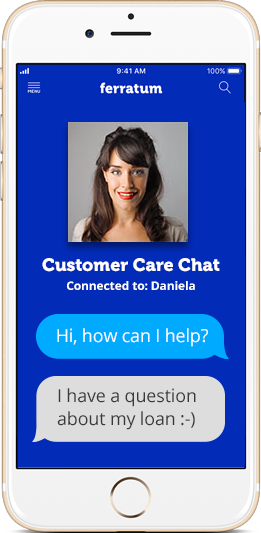 Still have questions?
Talk now to one of our professional Customer Care agents. They are on stand by waiting to assist you with any questions you may have.
Be sure to read our Frequently Asked Questions for a wealth of information related to all things Ferratum Canada.