Online loan calculator
How much will it cost?
Customize your Personal Loan below to get a preview of expected payments over the term of your loan.
We strive to say yes when other banks say no
When it comes to credit checks, a lot of people tend to think their credit file is worse than it is, and are pleasantly surprised when we offer them a quick cash advance loan.
We're not looking for old mistakes on long term finance arrangements customers had years ago. We run our checks based on similar items of credit to our online loans. It takes just 10 minutes to apply for one of our loans and get a decision almost immediately.
Using our advanced automated technology, it takes just seconds to assess an application for one of our online personal loans.
Customers will pass through several virtual "checkpoints" which validates their information as they go through the process. During this process, we will verify their ID, check their credit rating, and their ability to repay the loan on the due date.
 
Why one of our personal loans?
There are endless reasons why customers apply for online loans. At Ferratum, our customer service team have helped thousands of people just like you to assist with our cash loans.
From car repairs, to veterinary bills, urgent home repairs and everything in between, we're here to help.
 
Welcome to the Ferratum family
As a member of the Ferratum family, you'll get exclusive access to our financial tips and tricks, hacks, and useful money saving information every week right on Ferratum.ca.
Take our latest financial hack for example: We discuss ways you can identify invisible expenses in your life, and how to keep these (and your wallet) in check. If you don't have time to read the article we'll give you a hint: Call on the use of online loans (when you need it), buy a low fuel consumption car, and reduce your monthly expenses in the long term to come out ahead!
Interested in building the best emergency fund possible? We've got an article for that too. These are all included with your personal loan.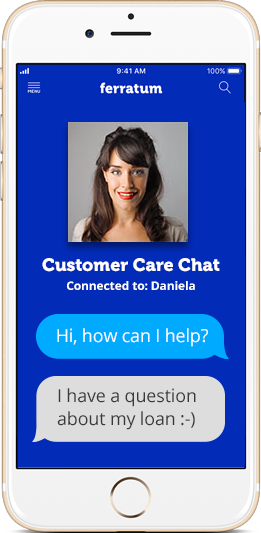 Still have questions?
Talk now to one of our professional Customer Care agents. They are on stand by waiting to assist you with any questions you may have.
Be sure to read our Frequently Asked Questions for a wealth of information related to all things Ferratum Canada.