The Ferratum advantage
More reasons to join the family
At Ferratum, we know your time is money. We also know the last thing you need is a complicated personal loan.
1) We're fast
We've streamlined our application process down to a few simple steps – taking only a few minutes to complete.
Our process is completely online and automated, giving you an answer instantly. No paperwork, scanning, photocopying, or faxing. No more waiting in line or on hold; just a simple online application to give you a decision, 24 hours a day, 7 days a week.
Once approved, your online loan will be transferred to your bank on average in less than 24 hours: Now that's fast!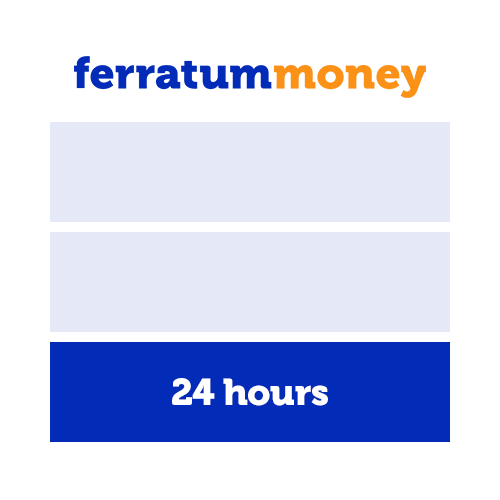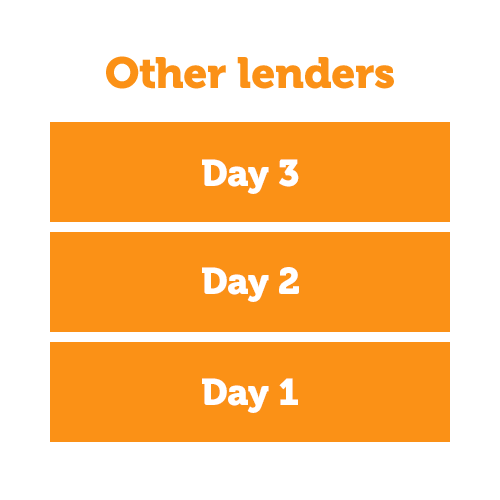 2) We strive to say yes when other banks say no
When it comes to credit checks, a lot of people tend to think their credit file is worse than it is, and are pleasantly surprised when we offer them a quick cash advance loan.
We're not looking for old mistakes on long term finance arrangements customers had years ago. We run our checks based on similar items of credit to our online loans. It takes just five minutes to apply for one of our loans and get a decision almost immediately.
Using our sophisticated and advanced technology, it takes just seconds to assess an application for one of our online cash loans.
Customers will pass through several virtual "checkpoints" which validates their information as they go through the process. During this process, we will verify their ID, check their credit rating, and their ability to repay the loan on the due date.
 
3) Take our loan for a test drive
We understand, your situation can change from day to day. That's why Ferratum is the only digital lender in Canada to offer a loan warranty absolutely free of charge. If you're not satisfied with your personal loan for any reason within 48 hours, simply contact a member of our Customer Care team to return it, totally interest free.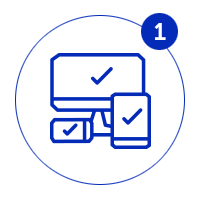 Apply online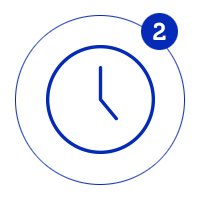 Return loan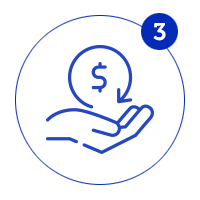 Zero interest
4) We make happy customers
We understand relationships are important and since we're a direct lender, many of our customers use our services on a regular basis.
Once you apply for one of our online short term loans, we create an account for you to use again if and when the need arises. Our aim is to create happy customers.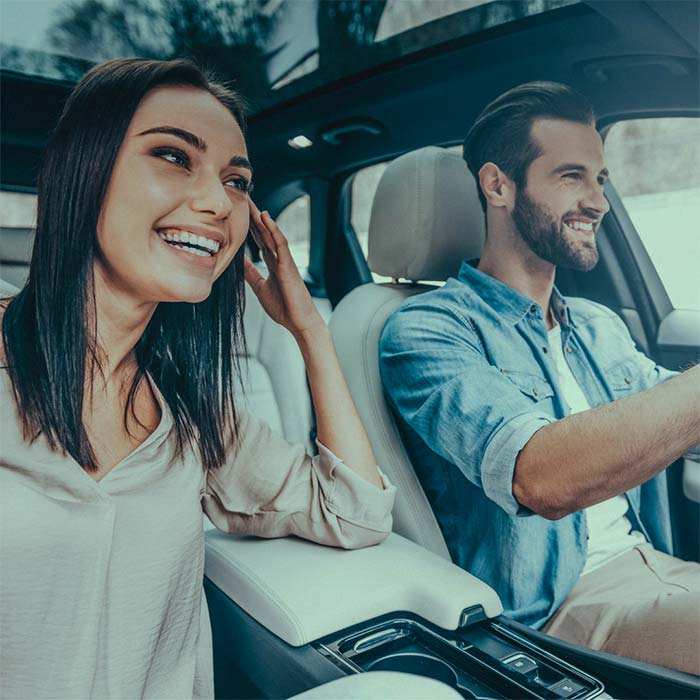 "Friendly service, quick turnaround, there when you need them."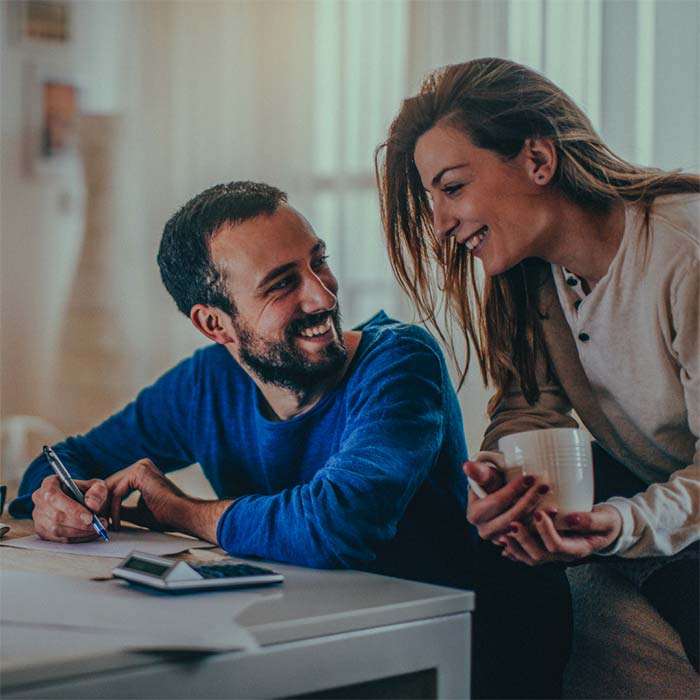 "Fast, friendly, helpful. Highly recommended."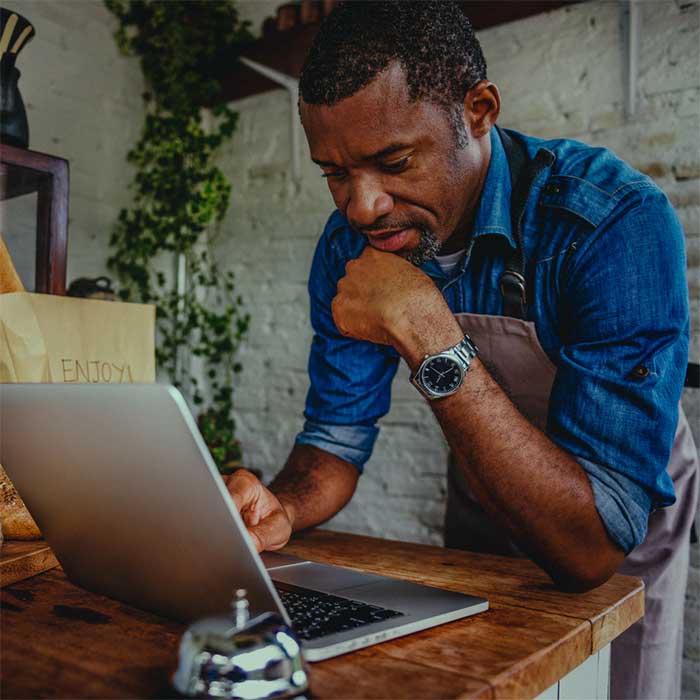 "Very happy with the fast and professional service I received."
50 amazing reasons you'll want to choose us for your lending needs
If you're currently considering a personal loan, it's important you choose the right financial institution and the one that gives you the most value. By value, we don't just mean financially, but a company that offers you transparency, honesty, convenience, reliability, ease, and confidentiality.
In addition to traditional banks, there are plenty of financial institutions offering short term loans. However, at Ferratum, we believe in doing things differently. As an international pioneer in the field of financial technology and mobile lending, we have expanded its operations to 25 countries since 2005.
Consumers simply fill in an online application through Ferratum's easy-to-use website. Applications are completely free. After completing an application, you'll receive a decision within minutes and, if approved, you get the money you need deposited directly to your bank. Since Ferratum is an online bank, this means no waiting in line, no paperwork, and no hassles.
Rest assured, when you apply for one of Ferratum's online loans, you're in good hands.
Still unsure?
If you're currently exploring loan options, to make your decision easier, we outline 50 reasons why you should choose Ferratum for your lending needs:
1) We offer a fast and easy loan application process
2) We ensure the safety and confidentiality of your data
3) We offer a No Interest guarantee on every loan
4) Our loans will improve your credit score with every successful payment!
5) Customers can apply for a fast loan on their smartphone, tablet, or via our website
6) Our customers absolutely love our easy payment terms
7) We love chatting with our customers on Facebook
8) We are continually developing and improving our products and expanding our product portfolio
9) We are a pioneer in short term loans and were one of the first companies to offer fast loans in Canada
10) We have been a leading international provider of mobile financial services since 2005
11) We offer best in class customer care
12) Founded in Helsinki, traditional Finnish values like trust are at the heart of Ferratum's operations
13) Our core values are honesty and trust
14) We bring people and money together in new and innovative ways
15) We value our customers many of who have used our services multiple times
16) We are a part of the smart banking revolution
17) We are a visionary financial company, unique in the Nordics
18) We value our relationships
19) We are your trusted financial partner
20) We are the link between people and money
21) We value our employees and offer many benefits including career opportunities and flexible working hours
22) Our aim is to become the world's leading mobile bank
23) We live by our motto - "Money for the doers."
24) Our goal is to help people with their daily financial affairs
25) Ferratum Group is an international, multicultural and multilingual organization
26) Our social responsibility is expressed through our openness and transparency
27) We believe in responsible lending
28) Our roots are in Finland and we are proud of our heritage
29) We are committed to implementing our traditional Finnish values in all countries that we operate
30) We are 100% online, which means no physical branches, and no waiting in line. You can apply for a loan online quickly and conveniently 24/7
31) All our fees are Provincially regulated
32) We have served over 2 million customers across the globe
33) We provide loans for people aged from 25 to 70
34) We are listed on the Frankfurt Stock Exchange, which means our business model is measurable
35) We believe that by providing private individuals with prompt and confidential short term loans, we have assisted with their day-to-day financial matters
36) We believe in transparent and responsible marketing practices
37) Our online loan application process is lightning fast
38) Our fees are always clear to see, which means no nasty surprises
39) You can apply for a Ferratum loan without even leaving your home
40) Ferratum Group is a fast-growing international company currently operating in 25 countries
41) Ferratum online loan periods are flexible and range from thirty days to sixty two days
42) Customers receive a response to their online loan application within minutes
43) Our aim is to change the world for the better by helping people with their financial affairs and making banking smarter and easier
44) Ferratum brings an end to outdated, traditional banking
45) We always make our loan decisions based on each customer's unique situation and their well-being
46) We think our customers are the best thing since sliced bread!
47) Our mission is to provide consumers with fast loans and best customer service possible
48) Regardless of location, all our customers are treated with equal respect and receive the same great service
49) We have been operating in Canada since 2015 and have a lengthy history in the financial sector
50) We love what we do, every. single. day!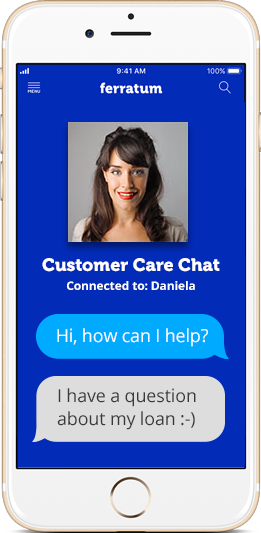 Still have questions?
Talk now to one of our professional Customer Care agents. They are on stand by waiting to assist you with any questions you may have.
Be sure to read our Frequently Asked Questions for a wealth of information related to all things Ferratum Canada.